Patients
Overview of Services Provided in SDM
The SDM College of Dental Sciences & Hospital has been providing dental care for almost two-and-half decades. It offers a full range of general and specialty dental services for the public. The information in this section will help you learn more about the type of patient care available throughout the dental hospital. To meet the wide variety of patients needs, SDM has undergraduate and specialty clinics, a Comprehensive Oral Health Care clinic (General Dentistry), a full-service Faculty Practice, and the Craniofacial Unit and Emergency Centre.
The clinical departments at SDM College of Dental Sciences & Hospital offer a full range of high quality general, specialty, and emergency dental care at lower fees than private practices. At the clinical departments, dental care is especially affordable because faculty-supervised undergraduate or postgraduate dental students provide treatment. SDM has the following types of dental clinics: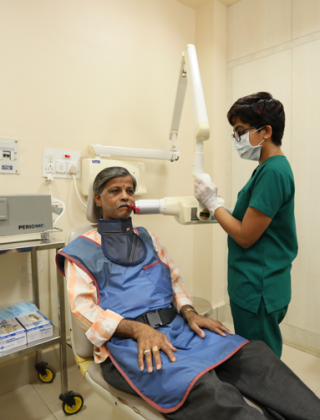 Undergraduate Dental Clinics and General Dentistry  For patients who want general/comprehensive dental care.
Postgraduate and Specialty Clinics – For patients with more complex dental needs, including patients referred to SDM by a dentist.
General Dentistry – The department caters to patients willing to undergo comprehensive oral health care and provides total dental care under one roof.
Faculty Dental Practice – At the Faculty Practice, general and specialty dental care is provided by SDM  faculty many of whom are internationally recognised in their area of expertise. SDM Faculty Dental Practice is a multi-specialty private group practice, uses no students, and has rates comparable to other private dental practices of Hubli-Dharwad.
Craniofacial Unit and Emergency Centre – Emergency care during non-hospital hours is available at the hospitalas Craniofacial Unit for patients suffering from uncontrolled bleeding, road traffic accidents involving the craniofacial region and other emergencies.
Treatment Charges
SDM College of Dental Sciences & Hospital is a non-profit organisation. Treatment charges are nominal and usually cover material costs only. Extremely economically weak sections may be provided free treatment.