About Library
Learning Resource Centre is situated on the top floor of the institution, occupying a total of 1060 sq meter (11400 sq.ft.) area, with a mission to provide reading material and service of the highest quality, to teach skills needed for academic inquiry and lifelong learning, to support faculty and postgraduate research, to support the creation and use of multimedia by students and faculty.
A serene and peaceful ambience is always maintained which is, apt for studying. A good collection of print material is available, which include Books, Magazines, Periodicals and Scientific Journals, with a special collection of MFDS course / reader's modules and Craniofacial Growth Series.
Being a completely automated with wireless networking, issuing of library material is done by new and indigenously developed software, which enables a central access of books and the status of its availability.
New books / journals are acquired regularly and a constant update of databases is done, ensuring the latest and the best.
It has a capacity of housing 350 students at a time
[show_more more="show more" less="show less"]
Objectives
To develop a comprehensive and up to date collection of information resources required for teaching-learning, practice, and research.
To establish and provide services to optimize the use of information resources available/accessible.
To create the infrastructure necessary to offer services to the satisfaction of Library users.
To deploy the latest information and communication technology that would enable users to access information resources from their workplaces.
To develop a team of motivated and well – trained staff.
Membership
The students and teaching faculty and other staff of the SDM College of Dental Sciences are the regular users of the Library and are entitled for all the services offered by the Library. New staff members joining the Institute are required to apply for Library membership by submitting the identity card at the circulation counter along with one passport size photo. The membership card is issued to all registered staff and students who apply for library membership.
Advisory Committee
The Committee is charged with the procurement of books and journals, operations of the internet browsing centre in the Library and preparation of teaching aids. It meets twice a year, usually in the first and second half of the calendar year, and as and when necessary. Library Advisory Committee Members
Staff
A well-trained team of staff comprising professional, semi-professional, and support staff assesses, acquires the information resources required, and provides efficient service to the Library users.
[/show_more]
Vision and Mission
Library to support the institution and its stakeholder by providing seamless access to the widest possible spectrum of information resources such as digital, online databases, print and non-print materials relevant to the curricular, informational and innovative research needs of the academic community', means to provide Right Information to the Right Users at the Right Time and in the Right Format.
Contact Us
Librarian
SDM College of Dental Sciences & Hospital
Sattur, Dharwad – 580 009
Librarian:                       +91 836 246 8142  Extn-300
Mobile:                           +91 99866 25373
Circulation Counter:    +91 836 246 8142  Extn-301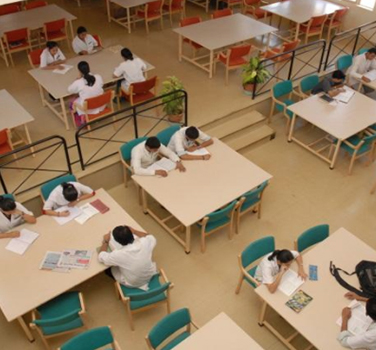 Library Working Hours
Week days
9:00 am to 11:00 pm
Sundays and Public Holidays
9:00 am to 10:00 pm
(Only two days closed on Ganesh Chathurthi and Balipadyami)