Orthodontics & Dentofacial Orthopedics
The Department of Orthodontics is situated in the top left wing of the dental school on the Second floor with a Clinical Section, Seminar Room, Laboratory, Computer Section, Photography, Records Room, Post Graduate Students' room and Offices for the faculty. The Department is well equipped with 30 Dental chairs units and has all the laboratory equipments and materials required for various purposes such as Vacuum Molding Unit, Archmate, Electropolishing device, Hydrosolder, Light curing Units, Welders etc.
The department is the first in the country to have a formal lingual orthodontic training as a part of the postgraduate curriculum. Each Post-Graduate has to compulsorily treat a minimum of 2 lingual orthodontic cases.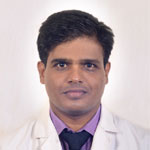 Dr. Shrinivas M. Basavaraddi
Professor and Head
Dr. Shrinivas Basavaraddi is presently heading the department of Orthodontics and Dentofacial Orthopedics. He has been associated with the department since 2006. He has several publications to his credit and participated in various conferences. He is also reviewer to various journals. He has the privilege of teaching several students who are now distinguished clinicians.
UG Curriculum
The Undergraduate training program commences in 3rd Year with Lectures and Clinical exercise and continues to the Final Year and Internship. During this clinical posting students learn to diagnose and identify various mal occlusion of the oro-facial skeleton. They also learn preventive, interceptive and corrective aspects of treating skeletal and dental mal occlusions. They learn to fabricate various removable appliances for correction of minor orthodontic deformities. Pre-clinical exercises includes wire bending and appliance fabrication.
Postgraduate Curriculum
The Department of Orthodontics and Dentofacial Orthopaedics is committed to excellence in every aspect. Various malocclusions and dento-facial deformities are comprehensively managed in the department. Advanced training in various disciplines, both basic as well as applied, is imparted to the students. The ultimate aim is not to just achieve an ideal, aesthetic and stable result, but also to promote the psychological well-being of the individuals undergoing treatment. We are dedicated to the task of producing not just a good orthodontist but also a thorough professional with compassion for patients, since we believe in the concept of 'Treating people, not teeth'. Fulfilment of such an objective requires dynamic interaction between a dedicated and demanding faculty and diligent and committed students. High standards are set in both clinical and academic areas in the speciality. Since the inception of the post-graduation course in 1991, the department has made steady progress towards attaining the goals. The emphasis is on developing their critical analytical faculty to weigh the strengths and weaknesses of each philosophy, with the aim of developing a holistic approach, which integrates the wholesome aspects of different schools of thought and modes of mechanotherapy. The inquisitive minds are stimulated to explore the unknown and come out with innovative solutions. All the graduate students who have come out of the department have brought laurels to the alma mater.