Oral Medicine & Radiology
The department of oral medicine and radiology is situated in the ground floor near the main entrance with a clinical section, a radiology section, Computer section and record room and offices for the faculty and post graduate students. The department is well equipped with 19 dental chairs. Radiovisography (RVG), Dental X-ray units, OPG machine, clinical lab incorporated for various investigations.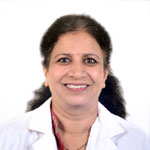 Dr. Kirty R. Nandimath
Professor and Head
Dr. Kirty Revansidha Nandimath is presently heading the department of Oral Medicine and Radiology. She has completed her MDS from SDM College of Dental Sciences & Hospital and is associated with the college since 1992. She has numerous publications to her credit and has trained several undergraduates and postgraduates in oral diagnosis.
UG Curriculum
The undergraduate training programme commences in the third year with lectures and clinical exercises and continues to the final year first term for a total duration of 18 months.
During their one month clinical posting in each academic year, students have the opportunity of taking the history, examining the patient, and arriving at a diagnosis of common oral diseases with the aid of radiographs and other investigations, thereby planning suitable treatment for the patient.
Postgraduate Curriculum
The Post Graduate training programme is of three years duration beginning with Under graduate clinical work. Following this, the students are trained in taking a detailed case history and performing a thorough examination and evaluation of the patient, not only of the oro-facial region, but also of the entire body to ascertain the systemic health of the patient.
When required, referrals to various specialists are made and the diagnosis and treatment plan is established after finally advising necessary investigations. Finally non-surgical treatment and regular follow-up of patients with various oral lesion is done.
Regular seminars and Journal club reviews are an essential part of the training programme.
The trainees are encouraged to attend National Specialty conferences in Oral Medicine and Radiology and present papers. They are also trained in medical subjects such as General medicine, Dermatology, E.N.T, General radiology and Oncology.
Additionally, the P.G students are required to prepare a dissertation as a part of their curriculum.