Infrastructure
Library is situated on the top floor of the institution, occupying a total of 11400 sq.ft area, with a mission to provide reading material and service of the highest quality, to teach skills needed for academic inquiry and lifelong learning, to support faculty and postgraduate research, to support the creation and use of multimedia by students and faculty.
show more
A serene and peaceful ambience is always maintained which is apt for studying. A good collection of print material is available, which include Books, Magazines, Periodicals and Scientific Journals, with a special collection of MFDS course / reader's modules and Craniofacial Growth Series. Being completely automated with wireless networking, issuing of library material is done by new and indigenously developed software, which enables centralised access of books and status of availability.
Keeping pace with the changing times, the college understands the growing need of a high speed leased line (1 Mpbs) internet facility as a search tool for keeping in touch with the latest in the scientific arena. Free browsing facility is provided at the browsing centre which gives online access to a variety of journals through J-Gate(Helinet Consortium). The library is also a WiFi hotspot. New books / journals are acquired regularly and a constant update of databases is done, ensuring the latest and the best. It has a capacity of housing 350 students at a time.

show less
Facilities
Browsing
Wi-Fi internet connectivity 4 MBPS speed Leased line
Reprography
Audio visuals
Inter library loan/Membership
Book bank scheme
HELINET /and EBSCO ORALSCIENCE DATABASE access to E- journals.
DELNET (Developing Library Network)Document delivery services
CAS and SDI services
Institutional Digital Repository http://172.16.16.59:8080/jspui
Plagiarism Checker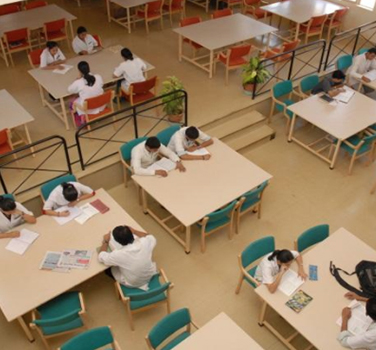 Library Working Hours
Week days
8:00 Hrs to 23:00 Hrs
Holidays
9:00 Hrs to 22:00 Hrs
Download List of Journals