CAMPUS LIFE
Mess and Cafeteria
Adequate dining facility is available at the "Satvik" Mess for all students. The food expenses are shared equally by all students. A cafeteria, managed by a reputed group of hotels, is located in the Dental Hospital and open from 8.00 a.m. to 5.00 p.m. on all working days. In addition, a Fast Food joint, a fruit juice centre and a Nescafe Coffee Corner close to the hostels are open till late in the night. A Kiosk situated at the rear side of the library is open till 11.30 a.m. serving coffee and tea.
PROHIBITION OF RAGGING IN COLLEGE & HOSTELS
All the hostelites and other students of the college are hereby informed that as per Govt. Order No.ED/122/URC/96 dated 16.01.1997, RGUHS Circular No. RGU/GRC/16/2013-14 dated
5th October 2013 and the circular from the Chief Secretary, Government of Karnataka, ragging is a punishable act and it needs to be eradicated from every professional college.
Further, I am to inform all the students that as per Karnataka Education Act 1983 (Karnataka Act No. 1 of 1995) Section 2(29)
"Ragging" means causing, inducing, compelling or forcing a student, whether by way of practical joke or otherwise, to do any act which detracts from human dignity or violated his person or exposes him to ridicule or to forbear from doing any act, by intimidating, wrongfully restraining, wrongfully confining, or injuring him or by using criminal force on him or by holding out to him any of such intimidation, wrongful restraint, wrongful confinement, injury or the use of criminal force.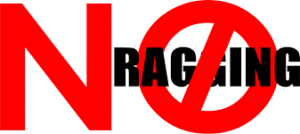 SECTION 116: PENALTY FOR RAGGING:
No person who is a student in an educational institution including an institution under the direct management of the University or of the Central Government shall commit ragging.
Any person who contravenes sub-section (1) shall, on conviction, be punished with imprisonment for a term which may extend to one year or with fine which may extend to Rs.2000/- or both.
Ragging is not only punishable under section 116, but also under various provisions contained in sections 109, 110, 111, 112,113,114,115,116,302,305,306,339 to 347,354,359,368,448,451 and 506 of the Indian Penal Code (IPC) which would result in imposition of extreme punishment in furtherance of the specific directions enshrined in standing order No.940 of the Director General and Inspector General of Police.
Ragging is a criminal offence punishable under the various provisions indicated above and those students involved in such obnoxious practice, in addition to prosecution are liable for being rusticated, dismissed and expelled from the college.
Sports and Outdoor Games
200 m. track
Football field
Cricket Ground
Volleyball Court
Kabbaddi Court
Tennicoit Court
Throw Ball Court
Basket Ball Court
Swimming Pool
Indoor Games Facility
Shuttle Badminton
Table Tennis
Pool Table
Multi Gym
Carom
Chess
Separate Dressing Room for Boys & Girls
Music Room and Club
Attached Physical Director's Office
Recreation
The indoor sports facility has a Music Room with a variety of instruments drums set, tabla, kango, guitar (conventional and electric), key board, etc. We also have a trained music teacher who visits every week (on Tuesday) and conducts music classes. From each batch of students, two students have access to the keys of the Music Room and allow its utilisation and safety. Ten to fifteen students use the music facility every day.

Student Services
Every Sunday at 4.00 pm, a movie show is organised in the college auditorium for students. The show is also open to other members of the institution. The college bus is provided to the students once a week to visit Hubli and Dharwad's market zones for shopping and other personal needs. The students are allowed few hours of shopping before the bus returns to the campus. One of the rooms in the girls hostel has been transformed into a beauty parlour, with beauticians visiting daily.
The Learning Resource Centre (LRC)
The LRC, or Library, is situated on the top floor of the institution, occupying an area of 11,400 sq. ft. area, and aims to provide reading material and services of the highest quality, and imbibe a culture of academic inquiry and lifelong learning. The LRC also supports faculty and postgraduate research, and the creation and use of multimedia teaching aids by students and faculty.
A serene and peaceful ambience is maintained which is ideal for studying. A wide collection of print material is available, and includes Books, Magazines, Periodicals and Scientific Journals, with a special collection of MFDS course / reader's modules and Craniofacial Growth Series. Being completely automated with wireless networking, issuing of library material is done by in-house developed software, which enables centralised access of books and their status of availability.
The college understands the need of a high speed internet as a tool for communication and search for resources to keep in touch with ongoing developments in the scientific arena. Free browsing facility is provided at the browsing centre which gives online access to a variety of journals through J-Gate (Helinet Consortium). The LRC is also WiFi enabled. New books and journals are acquired regularly and a constant update of databases is done. The LRC can seat 350 students at a time.
The LRC also provides the following:
High-speed Internet
Reprographic Facility
Audio visual facility
Medline on CD ROM facility
Inter library load facility
Book bank scheme
HELINET, a consortium of e-resources and access point to e-journals
LRC Working Hours
07.00 Hrs to 11.30 Hrs on weekdays
08.00 Hrs to 11.30 Hrs on holidays
07.00 Hrs to 11.30 Hrs during exams